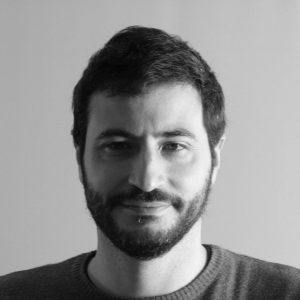 Guido Maria Ratti was born in Milan on 20 th February 1975, under Pisces.
He lives and works in Milan, though he does enjoy venturing into cities all over Europe. He graduated in Medieval History in 2001. From 2001 to 2003, he worked in the fields of graphics and video post-production. However, he soon discovered the expressive and narrative qualities of photography and began exploring graphical shapes and silhouettes in urban settings, especially in black and white.
His real vocation emerged when he came into contact with "non-places" such as tunnels and subway and railway stations, and careful observation of the flow of people who frequent them.
His first set of works "Paris Metro" was the fruit of two weeks' immersion in the vast underground network of the Parisian subway system.
Besides producing his artistic work he is also a professional photographer specialized in the fields of advertising and reporting.
For more information: www.guidomariaratti.com
Main exhibitions:
COOL HUNTER ITALY TRADE SHOW
22-24 SETTEMBRE 2012, SETTIMANA DELLA MODA MILANO.
PALAZZO DELLE STELLINE, Corso Magenta 61 – Milano
TUTTI FRUTTI
Personal exhibition of Guido Maria Ratti c/o Love Milano
"4THFLOOR" Border_line Exhibition
FUORI SALONE DEL MOBILE 2012
KISS MY RED LIPS
Love is a Game, a Game full of Love Mostra collettiva a cura di Indira Fassioni Hollywood Living
TUTTIFRUTTI
Panta Rei – Vineria Bistrot Via Caldirola 5 – Milano
2 dicembre 2011 – 12 gennaio 2012
That's Music
Enoteca Bacco
30 novembre 2011 – 20 gennaio 2012
AfreakA – Le freak c'est chic Mostra Collettiva – La Eve Promotion EL JADIDA
Milano Ottobre 2011
Metropolitan Frames
di Guido Maria Ratti e Filippo Centenari Spazio Gianni Testoni La 2000+45
Via D'Azeglio n. 50 – Bologna dal 21/3/2009 al 18/4/2009
Millions of questions Mostra collettiva Capodilucca
Via Capo di Lucca n. 12a Bologna dal 24/1/2009 al 31/1/2009
Let me write Mostra collettiva
SPAZIO GIANNI TESTONI LA 2000+45
Via D'Azeglio n. 50 – Bologna dal 18/10/2008 al 31/1/2009
Paris Metro, "les quartorze âmes"
ART GALLERY CONTEMPORANEA(MENTE
Strada 22 Luglio 33b (43100) – Parma Dal 12 dicembre 2008 al 10 gennaio 2009
Paris Metro, "les quartorze âmes" La Torre Galleria d'Arte Moderna Milano
dal 13 febbraio al 4 marzo 2008